One of our longest-running programs, Neighborhood of Raingardens, turns 10 this year. Over the past decade, we've been installing raingardens in people's yards, neighborhood by neighborhood, while teaching residents about landscaping practices that can help reduce stormwater runoff, a major cause of water pollution. Our goal is to help people make their property and community more resilient while protecting clean water in nearby lakes and streams and providing native habitat for pollinators. Since 2009, we've designed and installed more than 1000 raingardens and native plantings that restore sustainable function and add beauty to our urban landscape.
Our first project was in Minneapolis' Powderhorn neighborhood, where we engaged residents to learn about actions they could take themselves to reduce runoff, including using raingardens, permeable pavers, green roofs, rain barrels, native plants and other sustainable practices. We worked closely with volunteers from the community, knocking on doors, offering workshops and holding meetings at people's houses to promote a program that offered free or low-cost raingardens. It was a success! All told, 125 raingardens were installed, diverting stormwater from 70,000 sq. ft. of impervious area that would otherwise have flowed into storm sewers–eventually emptying polluted water into nearby Powderhorn Lake. This was a partnership with the City of Minneapolis, the Conservation Corps Minnesota & Iowa, the Minnehaha Creek Watershed District and the Minneapolis Park & Recreation Board, with support from the Environment and Natural Resources Trust Fund.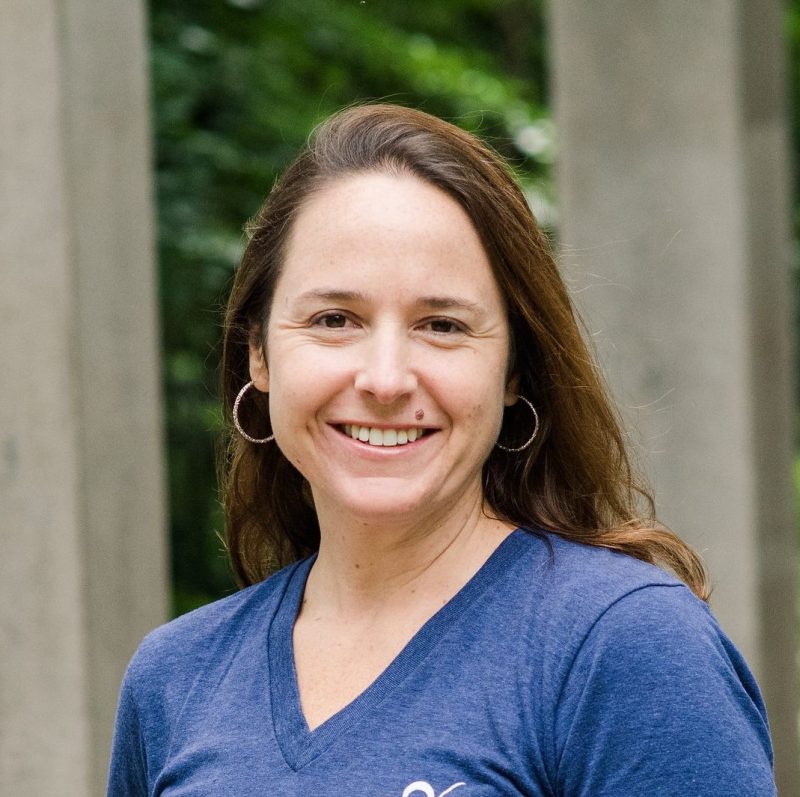 We've refined the program, but have kept several elements from the first one, including teaching residents about stormwater practices and working in partnerships with other organizations to reduce costs and help make the process easier. In Minneapolis, this means working with neighborhood associations and community groups, which partner with us to run the program in their community. The associations and groups publicize it to residents through their websites, newsletters or social media.
"A lot of people don't realize that raingardens can help solve some of their drainage issues and bring pollinators to their garden. Often people feel that designing and installing a raingarden is so hard to do. It's wonderful that we can make it possible and affordable," says Jennifer Ehlert, a Metro Blooms landscape designer and manager of the program.
Neighborhood associations have been great catalysts for this community-based program. It's a way for them to support the interests of the people who live there. Many of our partnerships originally started when residents approached their neighborhood boards to suggest the  program.
Typically the associations pay half the cost for a Metro Blooms designer to do an on-site consultation in a participant's yard, and cover the design and installation fees. We also have a partnership with the Conservation Corps, supported by the Clean Water Fund, that provides crews to excavate and prepare the raingardens. Some variations of the program include other financial support from cities, counties, watershed districts or other entities, too. But the end result is the same: the partnerships remove the financial, technical, and physical barriers many face in installing a raingarden. Participants often only pay for half of the consult, soil disposal (if needed), mulch and plants. Under our program, a raingarden that costs $2000 from a commercial landscaper might cost only $350.
We are now expanding the program beyond Minneapolis. Last year we installed 20 raingardens in St. Louis Park. This year we're going back to install 30. We will also be working in Plymouth, as well as in Minnetonka near Lake Minnetoga. And in Minneapolis, we'll be in 11 neighborhoods: Lynnhurst, Bancroft, Kenny, Nokomis East, Armatage, Marshall Terrace, Sheridan, Audubon Park, Waite Park, Logan Park and Windom Park.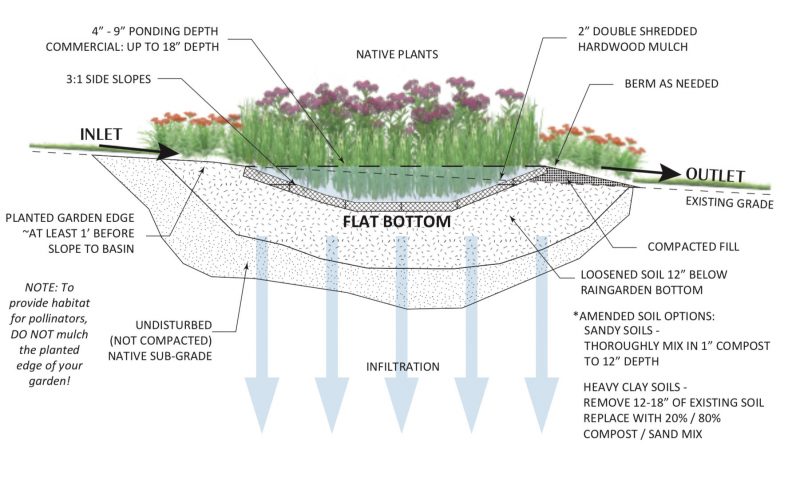 Raingarden
One caveat: participants must put in their own plants — for good reason. "People invest more of themselves in the gardens that they plant themselves," Ehlert says. "A little sweat equity helps them learn more about their plants. They will be more likely to water their plants after they've spent a hot day planting them." Not to worry — Metro Blooms provides an easy-to-follow design. Also, we provide information and guidance on maintaining your raingarden.
Ehlert often receives updates from participants, from how well their raingardens are attracting pollinators to enthusiastic testimonials about stormwater soaking in: "I wanted to send along this photo of our wonderful new raingarden doing its job during the thunderstorm last week. We all really enjoyed watching it fill and drain during the downpour!"
And the benefits of the program reach far beyond the boundaries of people's yards. The raingardens we installed in 2018 capture an estimated 1.9 million gallons of stormwater annually, reducing runoff, a major source of pollution in our lakes and streams. This is just one way for individuals to take action in their own landscapes to help heal and protect our environment.
We're looking forward to several more years of Neighborhood of Raingardens!
---
Want more information? If you're in any of the areas mentioned above, you could check with your neighborhood association or city. If the program isn't available to you, try suggesting it to your neighborhood board or your city, or contact us, and we can introduce ourselves to them.
— Aleli Balagtas, Metro Blooms Reporter