Metro Blooms grew out of a volunteer-powered garden recognition program, the Minneapolis Garden Awards program, which was first established by the City of Minneapolis' Committee on the Urban Environment (CUE). Between 1979 and 2016, hundreds of trained volunteer evaluators visited thousands of gardens, every year recognizing and celebrating excellence, and inspiring a proud culture of gardening in the city. Over time, we became a nonprofit to secure ongoing support and funding for the program; the Friends of CUE transitioned to Minneapolis Blooms; and finally, in 2008, we became Metro Blooms.
While the garden awards program no longer evaluates gardens or recognizes the Minneapolis gardeners who beautify our city, it laid the groundwork for our work today which is deeply rooted in the community. In 2005, we formed partnerships with several cities and watershed districts to take the lead on engaging the gardening community to be active stewards of our water resources. We developed an innovative series of raingarden workshops to promote practices to capture stormwater, preventing polluted runoff from entering nearby lakes and streams. Our workshops program grew, and today we offer several low-cost DIY workshops on sustainable yard practices, including creating resilient yards, healthy soils and turf alternatives.
In 2009, Metro Blooms began our first Neighborhood of Raingardens projects in the Cleveland, Victory and Powderhorn neighborhoods in Minneapolis as a response to the many workshop attendees who wanted to have a raingarden but needed a little extra help to achieve this goal. The program makes it less expensive and offers technical and crew assistance for residents to get a raingarden in their yard. It seeks to change landscaping norms by working with entire neighborhoods and communities to begin to break down the dominant lawn aesthetic. This program has installed more than 1,600 raingardens and native plantings in Minneapolis and the Twin Cities metro, leveraging partnerships with the Conservation Corps of MN, cities, neighborhoods, organizations and volunteer groups to get projects into the ground.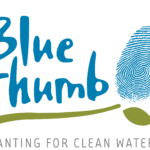 In May 2015, Metro Blooms began managing the Blue Thumb – Planting for Clean Water® program. A public-private partnership that promotes native plants, raingardens, and shoreline stabilizations to improve water quality, Blue Thumb was originally created by Rice Creek Watershed District as an innovative approach to help residents find the information and help they needed to reduce runoff in their yards. In 2019, Blue Thumb was selected by the Minnesota Board of Water and Soil Resources to manage the individual application process for their Lawns to Legumes program, providing grants and other support to Minnesota residents to plant for pollinators in their yards.
Metro Blooms is committed to environmental justice, and we equitably engage communities where we work to ensure that residents are involved in decision-making and benefit most from environmental improvement projects. Our North Minneapolis pollinator projects engage with residents to install native plants in their yards and in container plantings for apartment communities. We also work collaboratively with residents in affordable housing communities to redesign their shared landscape, creating a more resilient and inviting outdoors that adds to the quality of life.
We offer programs in sustainable landcare training to teach employable skills in caring for raingardens and resilient landscapes. This training provides pathways to job opportunities in the green economy, including jobs with our own sustainable landcare crew, which we launched in 2019.
Our programs and work have shifted significantly throughout the past 40 years. We continue to learn with our community to implement responsive and equitable programming, and to beautify our communities with publicly visible gardens.