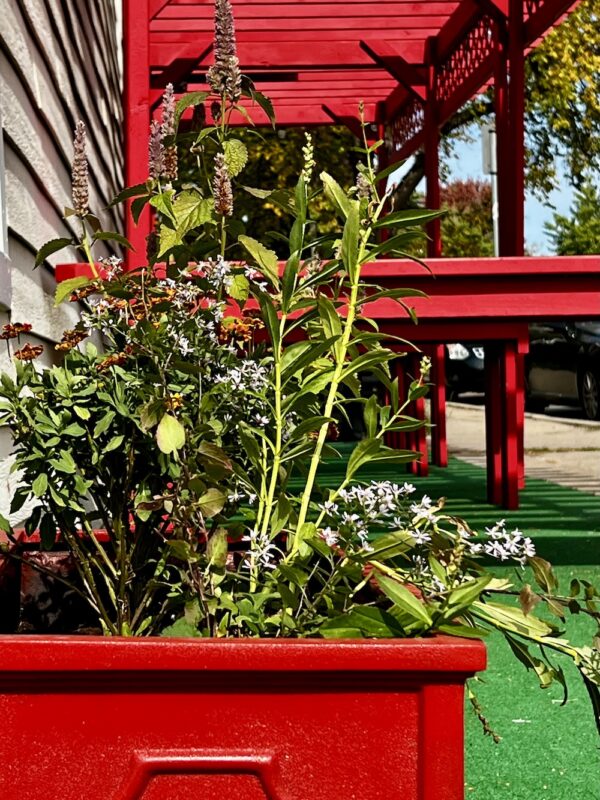 Earlier in the fall, passers-by might have noticed some bright-red planters, with late-season blooms spilling out, at the entrance to Mama Sheila's House of Soul in Minneapolis. They matched perfectly with the outdoor tables and pergola. It was almost as if it had been planned that way all along.
But it was something new. In the past, Sheila Brathwaite, who owns the restaurant with her husband Frederick, had tried plants outdoors. For various reasons, they didn't last. So, it was an opportunity when, one day last summer, Rich Harrison, Metro Blooms Co-Director of Design, stopped in to get some food. He met Brathwaite and mentioned our project working with small businesses to incorporate native plantings and pollinator-themed art along 38th Street. They put their heads together, and Harrison created a design. Erin Bogle, our Community Relations Manager, spray-painted the planters, and our Design + Build team installed them, along with some in-ground plantings.
"Next thing you know, I come to work, and I have these two big, beautiful pots sitting in the front by my business," Brathwaite said. "I'm like, 'Oh, that's gorgeous!' Same color and everything! "
Since last year, we've been partnering with businesses like Mama Sheila's on this project as part of enhancing the vitality of the 38th Street cultural district. Our art partner is nearby Chicago Avenue Fire Arts Center, which is designing metal plant supports for Mama Sheila's planters. The project is funded primarily by the City of Minneapolis Great Streets program.