Major changes are coming to the outdoor spaces at two affordable housing communities in Brooklyn Park. Metro Blooms has been engaging with residents at Brooks Landing and nearby Brook Gardens to design landscape renovations starting in 2020. The projects will create greater resilience in the environment using raingardens and other green infrastructure, provide native habitat for pollinators and improve the quality of outdoor life.
These renovations are part of our equitable engagement work in underserved communities. This work incorporates environmental justice principles providing people most affected by changes in their environment an opportunity to be involved in the decision-making — in this case to direct the landscape design. Brooks Landing is a 97-unit apartment building with mostly senior residents. At Brook Gardens, a 60-unit townhome/apartment complex, many residents are families with children.
Since last summer we've been working with resident stewards who have taken on leadership roles to encourage others to participate in the planning stage. The stewards participate in leadership training, knock on doors and talk to their neighbors about upcoming meetings and events. We rely on the stewards to help us identify priorities in their communities. They also provide helping hands for us at community events, and they attend our workshops to learn about how sustainable practices can help support the environment and make our outdoor spaces more livable.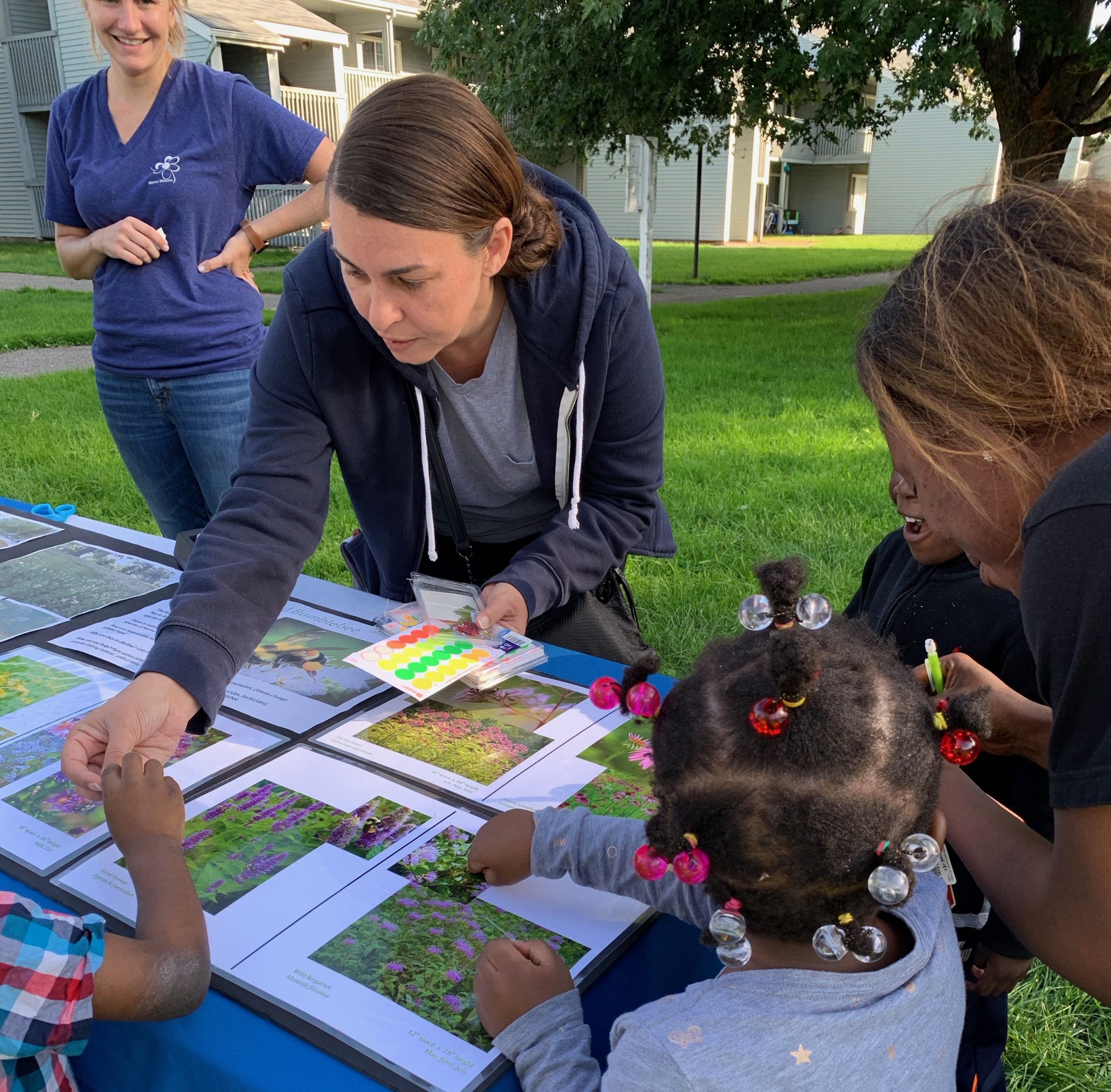 Michelle Hobin, a resident steward at Brook Gardens, spends a lot of time outside watching her children and other kids playing. She would like the young residents to learn to appreciate and have a sense of responsibility for their outdoors. "I care about my community," she says. "My kids live here. I want it to be nice, and to show my kids how to take care of the outside like they take care of inside their home."
Metro Blooms has met with residents at National Night Out activities, picnics and community meetings to talk to residents about how they use their outdoor spaces. Typically we ask people to draw their walking routes on a bird's-eye map and tell us where people spend time. We ask about ways to improve their outdoor quality of life. Are there enough shade trees? Would a bench be useful in a particular location?
We also explain how sustainable practices can create healthier and more attractive green spaces. For example, we talk about using raingardens to divert and soak in stormwater, preventing runoff into sewers that eventually empty into and pollute streams and lakes. Brook Gardens' location next to Shingle Creek, in particular, provides a strategic opportunity for addressing runoff and localized flooding. We share the benefits of native plants, many with beautiful flowers, for healthier soil and for creating habitat for pollinators — a fun activity involving "voting" for which plants to use in the landscape design.
Based on community input, some features of the landscape designs include more outdoor seating, trees for shade, a nature play area at Brook Gardens and raised beds for vegetable gardening at Brooks Landing.
Hobin sees a positive impact on the community. ""It brings us together. Even with just the stewards talking to each other, " she says. "Everybody wants better for the community. This is a starting point."
This work is based on a pilot project at nearby Autumn Ridge Apartments, where we recently finished the second phase of installation. We're looking forward to working with residents and with our partners Boisclair Corp, which owns both sites, the City of Brooklyn Park and the nonprofit ACER (African Career, Education, and Resource) to create more beautiful and resilient outdoor spaces that are assets for their communities.
— Aleli Balagtas, Communications Coordinator, aleli@metroblooms.org