Changes in the landscape are taking root at Autumn Ridge Apartments in Brooklyn Park. A new playground area, five raingardens, a pollinator garden and eight trees are recent features at the 366-unit affordable housing complex. Installed in 2018, they complete the first phase of a five-year environmental justice project coordinated by Metro Blooms to turn the 17-acre property into a more ecologically functional landscape and to improve the quality of life for the people who live there.

The project seeks to engage underserved watershed stakeholders (residents) in a clean water initiative that reduces water pollution by managing stormwater on the property. A major goal is to increase the environmental literacy and environmental stewardship of all the stakeholders. This includes creating opportunities to build capacity within the community by encouraging residents to participate in the process of re-creating their outdoor spaces. Other stakeholders partnering in this project are the owner Sherman Associates, the local community organization African Career Education and Resource (ACER), the City of Brooklyn Park, the Shingle Creek Watershed Management Commission and Hennepin County.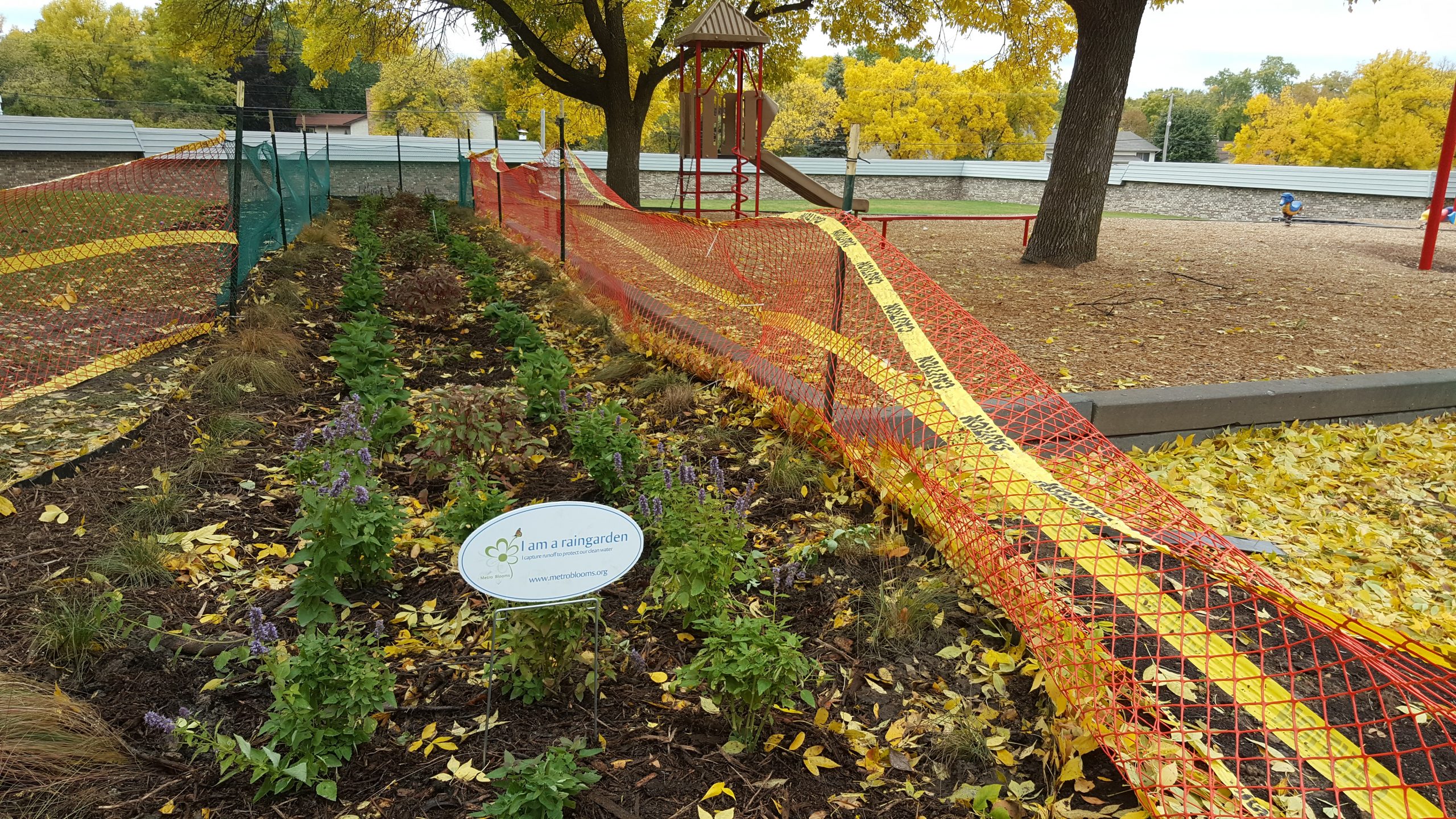 Metro Blooms became involved with Autumn Ridge in 2016 when Kimberly Carpenter, Metro Blooms' community engagement manager, learned that ACER was working with residents on livability issues at the complex. Carpenter saw the potential for improvements in the property from a resilience and environmental landscaping perspective. She also saw a chance to educate tenants and partners about using green infrastructure strategies practiced by Metro Blooms such as raingardens to prevent stormwater runoff. Typically, stormwater runs off paved surfaces into sewers that empty into and pollute nearby lakes and streams. Raingardens divert and soak in stormwater, which is cleaned naturally as it soaks deep into the ground. The installations completed in 2018 are estimated to capture 954,000 gallons of stormwater annually.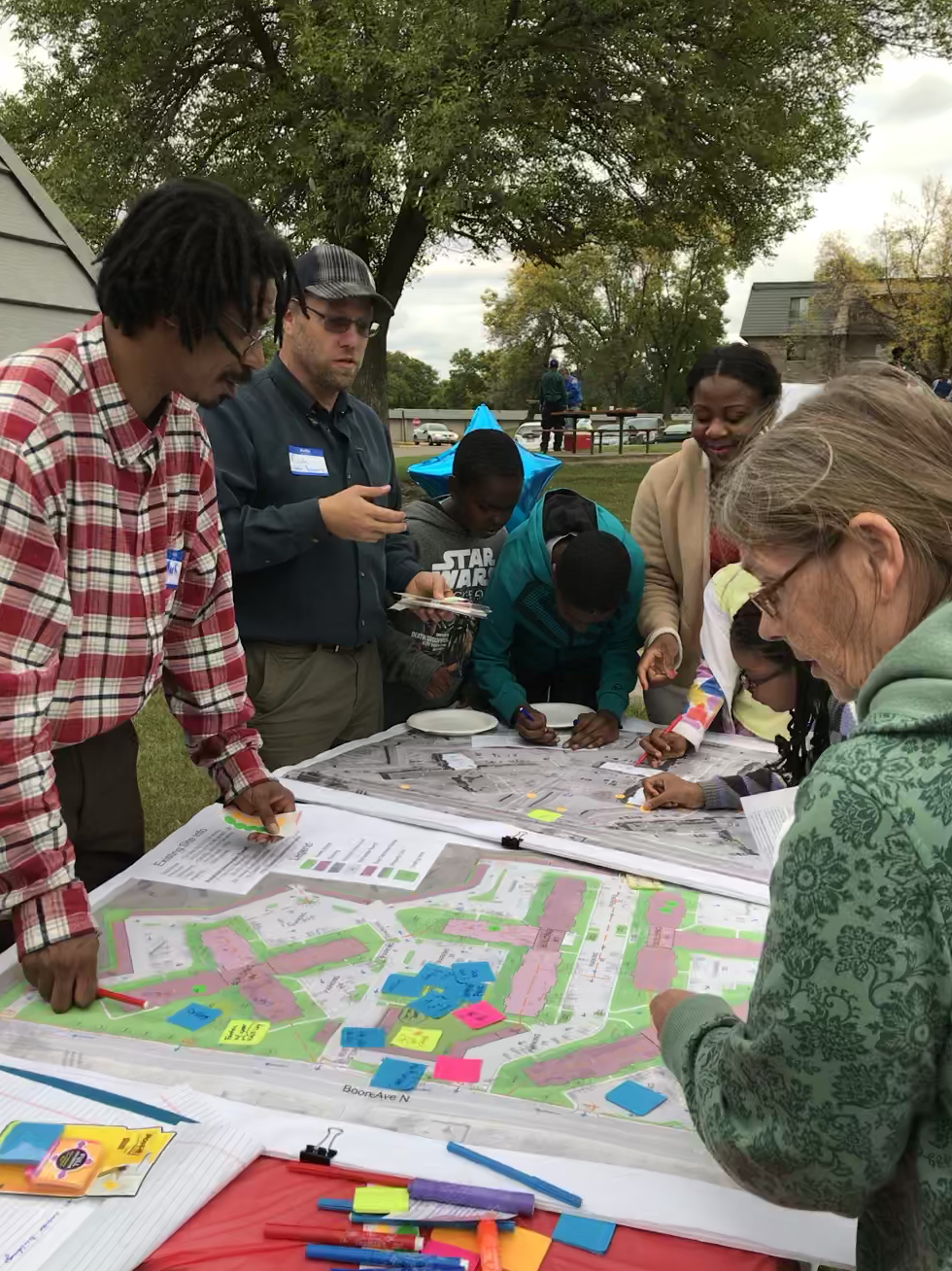 "There is definitely a change in attitude and behavior about the environment," says Donna Adigwe, a resident and leader who has served the community as a project steward, attending meetings and events and working to educate others about safe, healthy, and resilient landscapes.

Participation at all levels has been a key element in the project.

Residents have been encouraged to take part in discussions on improving the space outdoors. During planning, Adigwe remembers that many people were concerned about where children could play, and they wanted more playground equipment. She herself had noticed children playing in the hallways instead of outdoors where there were only two swings. New playground equipment was installed during the summer.

Another project steward, Michael Shields, known as "MJ", chose to get involved because he wanted to be a part of positive change. "I cared about where I lived," he says. "There were several other people in the community that cared about where they lived. But some people don't know how to voice their opinions." MJ saw an opportunity to put his leadership and communication skills to use.

At the pollinator planting event last October, staff from ACER, the City of Brooklyn Park (staff and council members) and Sherman Associates spent a chilly Saturday morning planting a garden with more than 200 pollinator-friendly plants.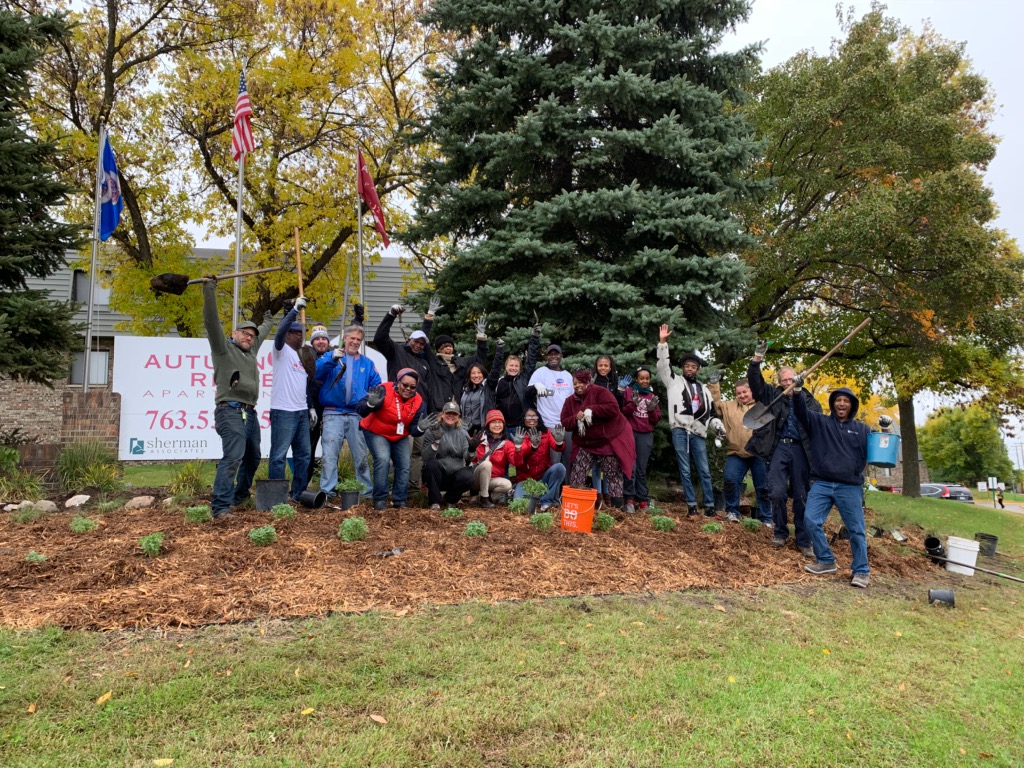 Recently, Autumn Ridge landscape and maintenance staff attended a half-day workshop to learn how to maintain the new features in the landscape. The workshop, led by Metro Blooms, included other environmentally-beneficial aspects of maintenance, including an overview of smart winter salting practices to reduce chlorides, a major contributor to water pollution.

For Rich Harrison, Metro Blooms landscape architect, seeing other people become engaged in a subject he is so passionate about has been a major highlight. "You can sense some pride in their knowing more about stormwater management. When they tell you what they learned and they're excited about it, that's the best part of my job," he says.

Adigwe says that getting involved in the community makes a difference, and would like to see more residents at meetings. The only goal in her mind when she came to her first meeting was to voice her opinion. She kept on coming because she saw changes happening. "If you don't come to these meetings and take part in what's going on, to make it better where you live, it [livability issues] will never get resolved," she says.

Now when her granddaughter comes to visit, she is happy not to have to drive somewhere else to find a place where her granddaughter can play outdoors. The playground she needs is just outside the door.
— by Aleli Balagtas, Metro Blooms reporter, aleli@metroblooms.org