When Metro Blooms is in the field, there's a good chance that the crew on site are wearing yellow helmets. If so, they are likely a crew from Conservation Corps MN & Iowa, a longtime Metro Blooms partner. This organization has installed more of our raingardens than any other group we work with. In turn, we have trained many of its crews in ecological landscaping and stormwater management practices. This partnership has helped us greatly over many years, and we'd like to take a moment to highlight what they do.
Conservation Corps gives young people from diverse backgrounds experiences in service-learning and environmental stewardship, all the while learning practical job skills. Youths and young adults (aged 15–25) who serve with the Corps work on projects in conservation, natural resource management and emergency response, on for projects governmental agencies, organizations and nonprofits such as Metro Blooms.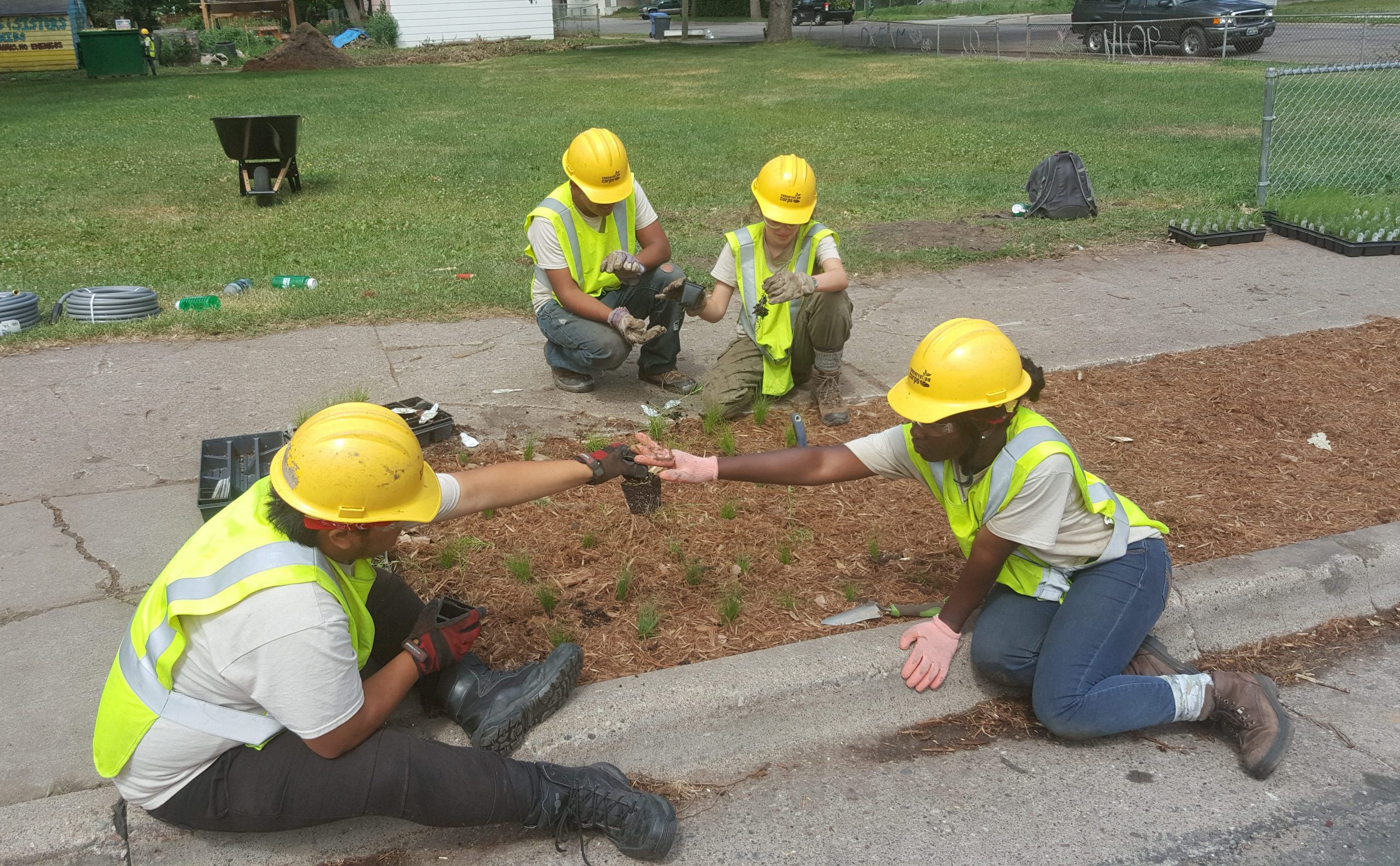 Conservation Corps crews have helped us install more than 1,000 raingardens and native plantings in yards, alleys and boulevards in the Twin Cities metro, through our Neighborhood of Raingardens, Blooming Alleys and Blooming Boulevards projects. Their crews also help us with landscape maintenance. Crews have worked alongside us pulling invasive species and making sure that raingardens and other best management practices (BMPs) in stormwater are fully functional, able to properly soak in rain and melting snow so the water is cleaned naturally as it filters into the earth.

"Our longstanding partnership with Metro Blooms has been extremely valuable for the Twin Cities community and for our Corps members who gain knowledge of urban sustainable landscapes and stormwater management," says Brian Miller, Program Director of AmeriCorps Field Crews.

Further, by leveraging Clean Water Fund support for the Corps crews, our partnership has saved community organizations, residents, and local governments hundreds of thousands of dollars over the last 10 years to implement and maintain clean water projects that benefit the public.

A Personal Experience
It just so happens that we have a Conservation Corps alumna working with us currently. Yordi Solomone, a service member with the Minnesota Pollution Control Agency's GreenCorps program, served as a crew leader in rural Minnesota one summer when she was a student in Environmental Studies at University of Minnesota.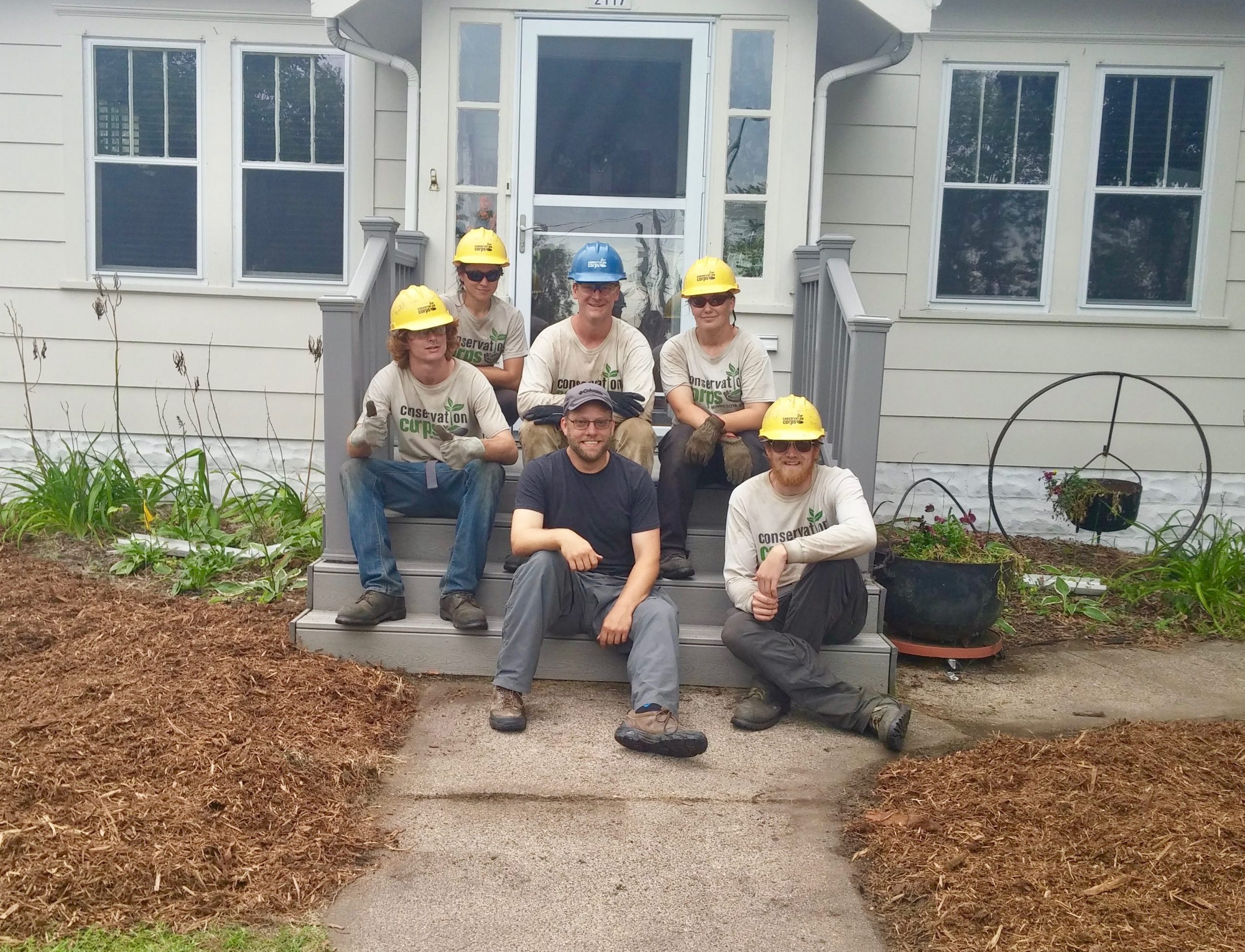 It was Yordi's first field experience. Though she considers herself adventurous, the summer was full of challenges she would not have imagined before she faced them. On one project, a morning "commute" meant a two-hour canoe trip, followed by a one-mile hike carrying a heavy pack; then it was time to start work. She remembers another very wet day setting up a campsite and organizing dinner for the crew during a major storm; once under cover, it was actually fun. Then there was the challenge of motivating 15 teens in the face of  much, much digging. Her advice in this situation: "Don't talk down to them, and they will listen."
Yordi says the Corps does a good job training people formally in many areas, including using tools, wilderness first aid and CPR. At the same time, she had a lot of on-the-job learning, in softer skills such as managing people as well as more logistical skills that include budgeting,  planning meals and grocery shopping for a large group on the trail.

Most important, though, was the realization during her time with the Corps that she was capable of much more than she thought possible. "It will not only take you out of your comfort zone, it will drag you out," she says with a laugh.

It  has opened many doors. During job interviews, having Conservation Corps on her resumé is a strong asset. "If you're trying to get into the environmental world, it's a huge, huge plus," Yordi says. "Even if it's not related to the environment, when people see that, they're like, 'Oh, if she can do Conservation Corps, anything is possible."
---
Serve with Conservation Corps MN & Iowa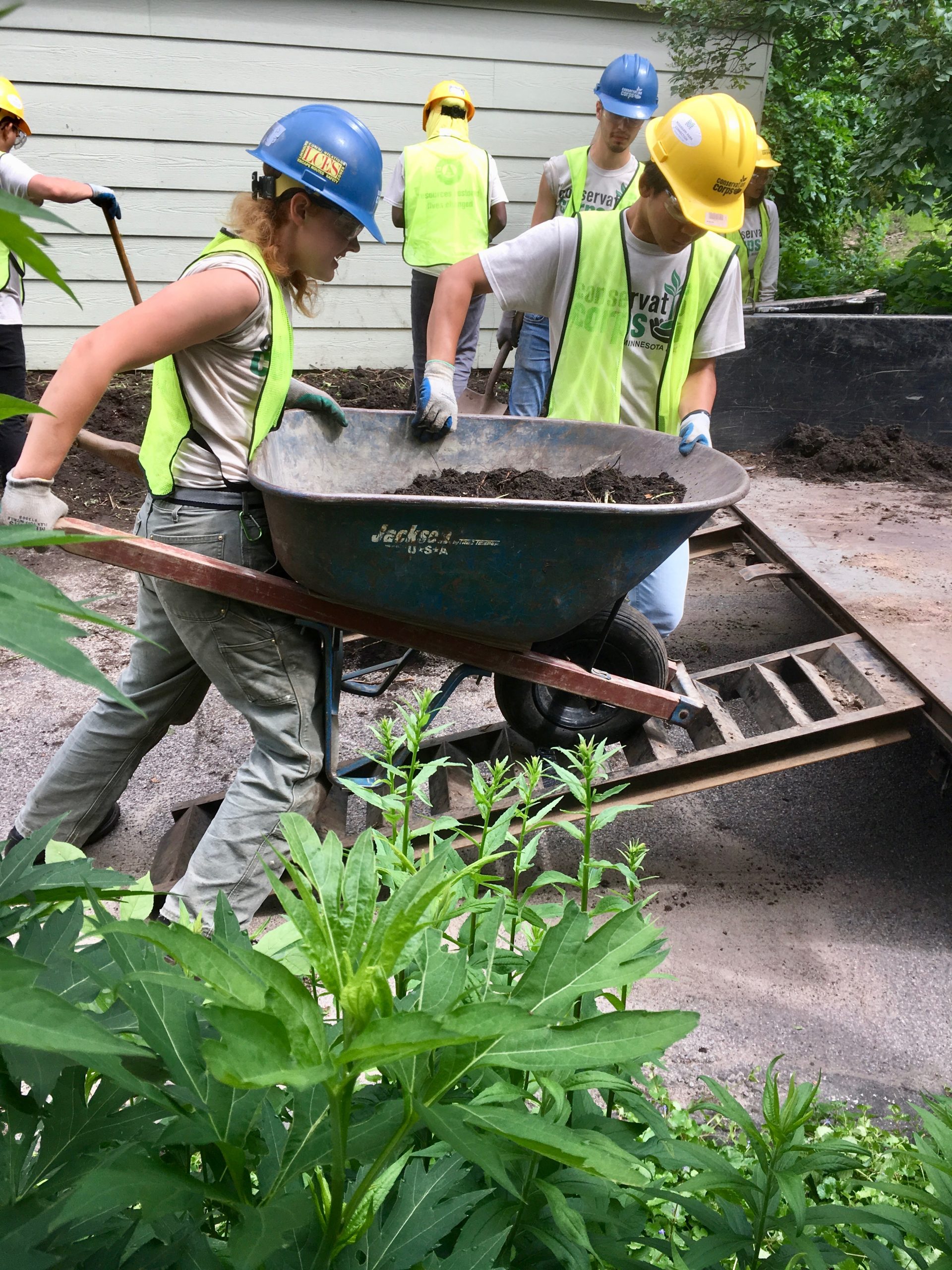 The Corps offers several programs, from full-time AmeriCorps positions to afterschool and summer programs, with a wide variety of work. A crew could spend several days camping in a remote area while build a hiking trail or restoring prairie, or help urban residents make their homes more energy-efficient. They have planted trees, banded birds and even been deployed on disaster response teams to Puerto Rico.

Corps members are highly trained. One-fifth of their time is spent on career-building skills and learning activities in environmental science and technology. They offer training in many different areas, depending on the needs of the project at hand, including defensive driving and trailer safety, firefighting and prescribed burning, using GPS, ATVs and flying drones.
— Aleli Balagtas, Metro Blooms Reporter, aleli@metroblooms.org