Maintaining a raingarden doesn't have the same element of novelty as installing a brand-new one. It's an important part of Metro Blooms' work, though, and includes other benefits beyond keeping the raingarden itself in working order not least of which is saving money. For the past six years, Metro Blooms has been maintaining raingardens and other stormwater practices for Minneapolis Public Schools (MPS), caring for and enhancing beautiful, high-quality patches of pollinator habitat, and helping the district take full advantage of the city's innovative stormwater credit program.

The Minneapolis Stormwater Credit Program encourages residents, businesses and others to adopt practices that prevent stormwater runoff, a major cause of water pollution in urban settings. This occurs when rain and melting snow runs off pavement and hard-packed earth into storm sewers, along with salt, pet wastes, fertilizers and other pollutants. The sewers then empty into and pollute nearby lakes and rivers. Raingardens, permeable pavers and green roofs are a few examples of ways to capture stormwater and prevent runoff. These practices, called best management practices (BMPs) in stormwater, qualify for the program, which offers a credit on stormwater fees, saving money for property owners.

Raingardens are probably the best-known example of a BMP. Typically they are shallow depressions planted with a diverse mix of native plants that also provide essential habitat for pollinators. The water captured by raingardens is taken up by the deep-rooted plants or is cleaned naturally as it soaks into the earth.
Last year in the school district, we maintained and ensured compliance of 25 BMPs, most of them raingardens. In total, they capture stormwater from impermeable areas totalling almost 1.3 million square feet. As part of the work, we worked closely with city staff, on behalf of the district, to ensure the raingardens remained in compliance to receive more than $54,000 through the city's stormwater credit program.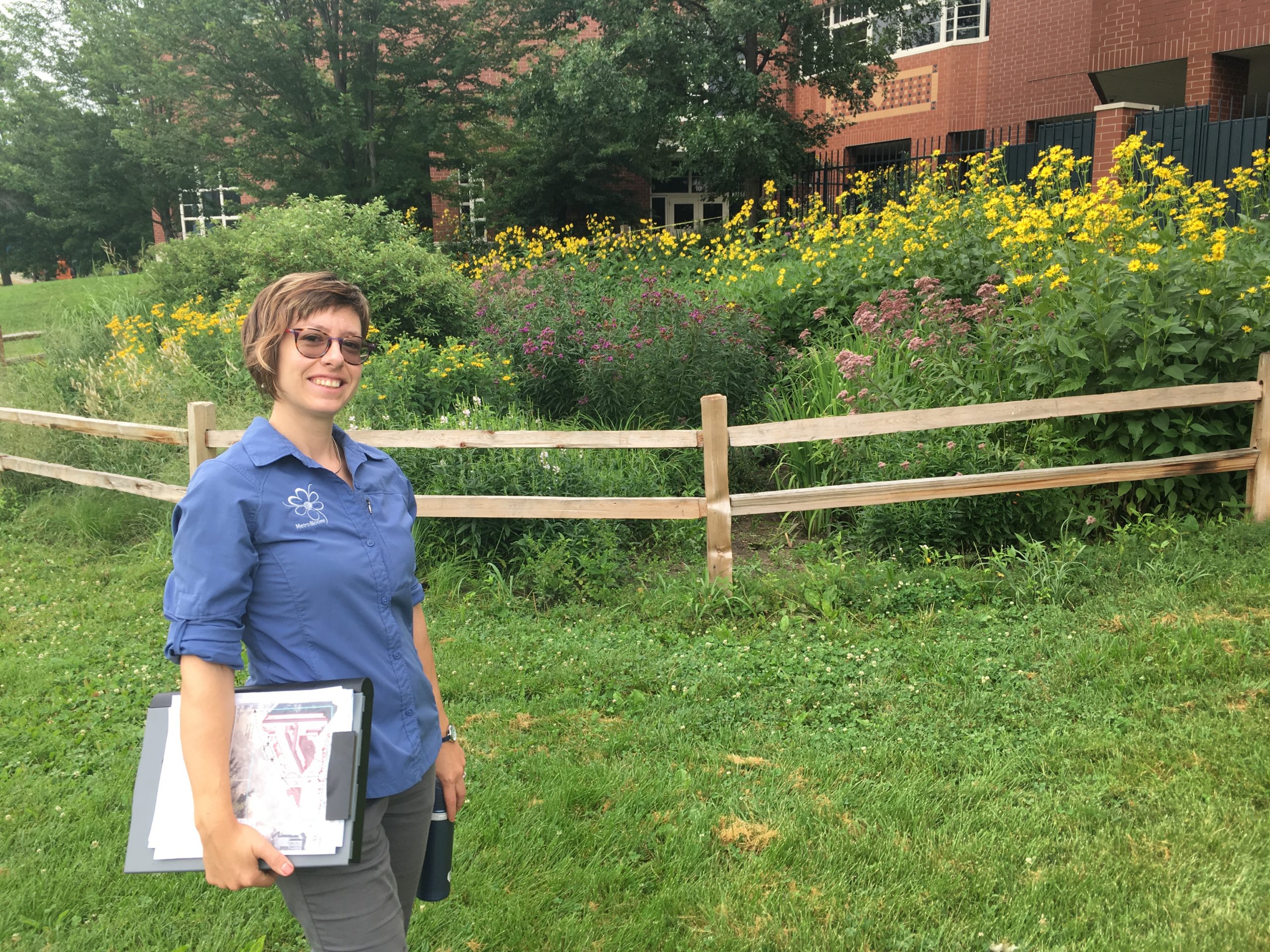 With limited green space in our urban areas, most of it privately owned, many public school properties have large swatches of green space and offer a rare opportunity to infiltrate large volumes of runoff. Maintaining, enhancing and expanding the Minneapolis Public Schools raingardens is one of our proudest accomplishments.

Metro Blooms sees another benefit to our maintenance work, too. The work with MPS has given us an opportunity to carry out job-training in sustainable landcare for crews from our partners at the Northside Economic Opportunity Network (NEON) and the Conservation Corps Iowa and Minnesota.
And we're happy to report we will continue maintenance at MPS for 2019, thanks to support from the Minnesota Pollution Control Agency Environmental Assistance program, Greencorps and Hennepin County Green Partners.

– Aleli Balagtas, Metro Blooms reporter, aleli@metroblooms.org