Join us for an evening to raise funds for Metro Blooms! Together, we care for the earth through community-centered partnerships rooted in environmental justice. Together, we expand pollinator habitats and clean watersheds. Together, we provide sustainable landcare training and future employment opportunities. Your support allows us to focus our energy and resources where they make the biggest difference – in the communities we serve.
When and Where
Thursday, June 15
5:30–7:30 pm
Bell Museum, St. Paul, MN
The event is free, and we hope you'll be inspired to make a gift. Please register because space is limited.

Enjoy appetizers and beverages, view some exhibits, and hear from special guest Erin Sharkey, editor of A Darker Wilderness. Meet our community partners and staff, who will be on hand to share our work. Don't leave without visiting the native plants and pollinators thriving outdoors — we'll be there to answer your questions. Also, parking at the Bell costs $6.
We're holding a raffle! You could win a forest bathing experience or professional yard maintenance, among other things. All proceeds benefit our work with communities. Tickets cost $5, less if you buy five or more or more tickets. Winning tickets will be drawn at the event, though you don't have to be there to win.
If you can't come, we'll miss you.
But you can still support our work with communities.
Thank you so much. We bloom with your support.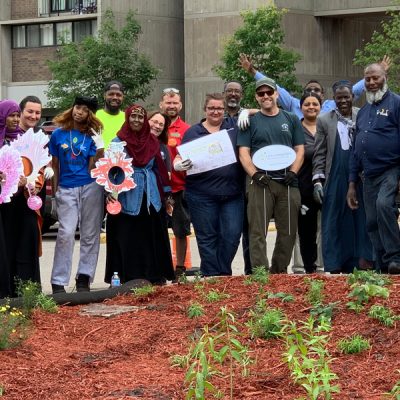 Gratitude to our sponsors!